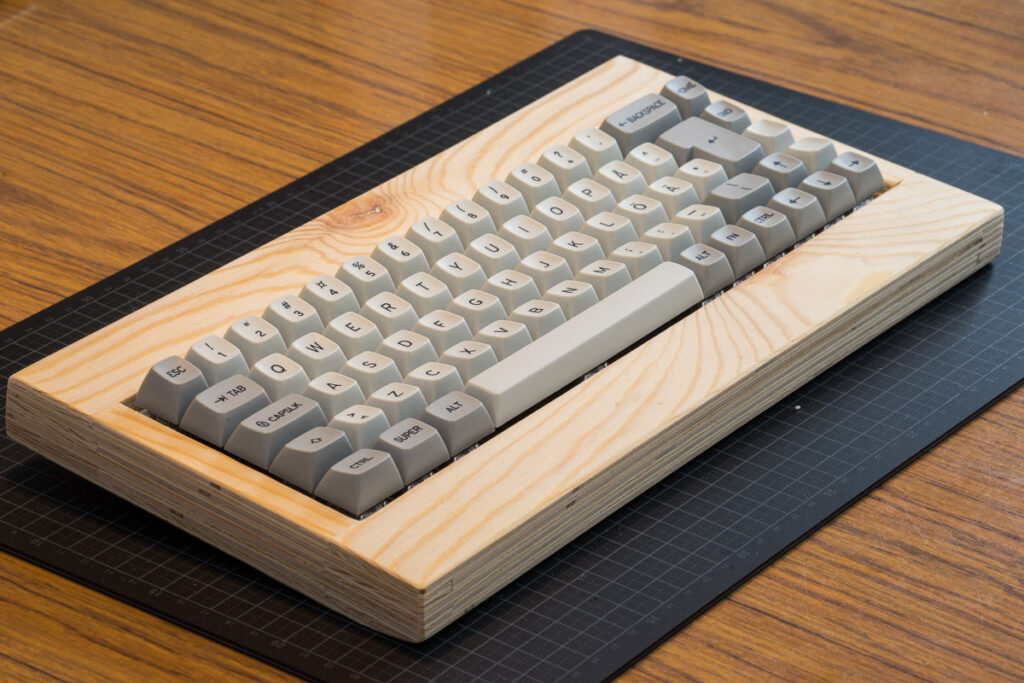 In fact it's an empty case with a switch plate, some great switches (Zealios 65g) and excellent keycaps (/dev/tty MT3, by Matt3o). Still missing stabilizers, though, and a short right shift. If anybody can find that shift (I know they were made) I'd be most grateful for it.
I need to start somewhere, and this is my first mock-up. I built it to have a physical object to try my ideas on. To get to test-drive one, eventually. For now, I've gotten to type on it (even though it doesn't output anything, obviously), and tried the switch and keycap combination.
The Matias set-up
Only problem is, that set-up is actually a bit too nice. I don't feel like soldering it up using diodes, cables and no skill to talk of. I shall put this plate, these switches and caps away until I have a working PCB.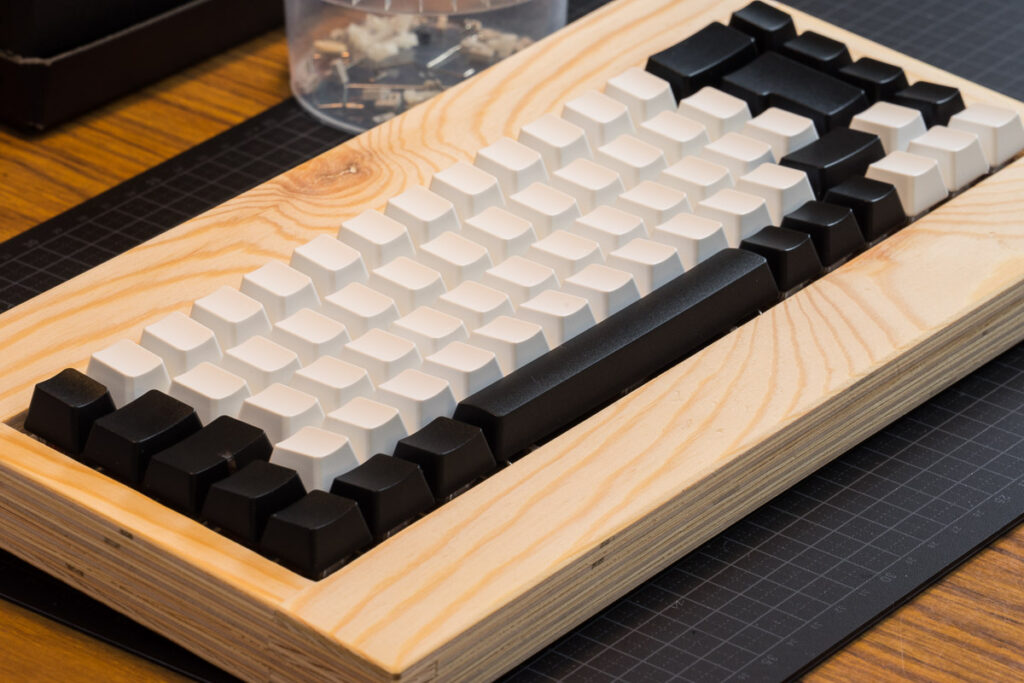 I also did a plate up with Matias silent reds, and some blank keycaps. Also very nice switches and caps, but a lot easier to get a hold of, so they'll be the ones used in my first hand soldered prototype. Right now the build is going slightly faster than the blog, so I've already started soldering. Stay tuned for more on that.
The switch plates aren't screwed down, so I can just lift them out and change them. A great way of trying things out. You can get a feel for what the board will eventually look like, and how it will feel, with switches and keycaps. I recommend making a mock-up of any build your doing. Preferably before you make any committing decisions. In this case before you solder things down.
Maybe you'd like to make changes? Mod your switches? Change them altogether? I learned that it's a good thing to try your stabilizers out before you set anything in stone
What I've learned
You don't need a lot of switch-plate mounting points, just create a ledge for the rim of the plate and a couple of mounting points. It will look pretty nice, not showing any screews.
Put mounting holes under keys that aren't stabilized.
Aluminium bends, giving the switch plate a slight sag in the middle. 1.5 mm for MX style switches seem fine, but 1mm for Alps is a little too thin. Mounting points will help, so no problem.
MX style switches seem to have a better grip on the switch plate. Alps-style switches really want a PCB. If you're hand-soldering, maybe hot-glue the keys on the bottom side to hold them in place?