The first part
The first part for the first endgame keyboard has been sent out for prototyping, and it's the switch plate. This is the first of the components I've designed myself, and that feels special to me. I'm eagerly awaiting delivery.
I decided early on that the level of detail and small tolerances called for a laser-cut component. That's not something I can do on my own, and so I had to find someone who could do it for me. That's the case with many of the components I am considering using. I will make as much as possible on my own, eventually.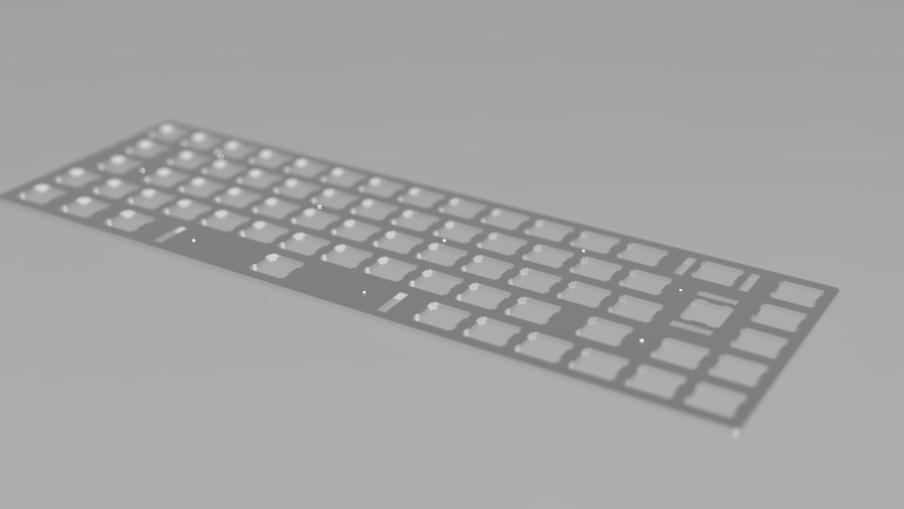 This is a plate for MX compatible switches. And there's one for Alps switches on the same order. I hope to be able to provide booth kinds eventually. Alps (or Matias) switches aren't as prolific as MX type switches, but they're great switches. Perhaps someone else feel like I do?
65% layout
As you might be able to discern on the plate rendering it's an ISO layout with a few extra keys to the right. If I were to show you an example of the key layout, it would look something like this:

This is a Swedish layout, but it's very preliminary. For one, I'm certain that I'd like a Delete key on the primary layer. Perhaps Home and Page up could be on the same key? End and Page down too in that case. That's easily solved with layers, I shall explain that concept in a later post
The 65% layout isn't for everybody, and it certainly won't be the only layout I'll explore. But it's fairly uncommon – you can find great 60% layouts anywhere. (I'm still going to make the best 60%, but that's for later.)
Please leave a comment with your preferred layout, or keyboard size, below.
Commitment
I've now taken a pivotal step in my project by actually putting some money on the line. It's not a large sum, and I will at least get a keyboard or two for my efforts. At four times the cost of most other keyboards, but still.
So, at the very least I shall make a couple of keyboards, and I hope that this build log, at the very least, shall help somebody else build their very own endgame keyboard.